Top 8 Shopify Stores Worth Learning In US – SellerCenter
Why learn about Shopify's successful website?
In Shopify's successful website, they must have certain advantages worth learning from. And these websites are generally more mature shops, especially some similar to ours, they often make money, so these kinds of money are often behind a strong product trader in charge.
If you often pay attention to their shops, then you can actually get the highest trader team with the lowest resources, which can save you huge expenses and research costs.
Shopify has relatively low technical requirements, so many people have begun to seize the Shopify market. This requires us to work hard on other aspects above, so that our competitiveness will rise.
So, what areas are worthy of our key research?
How to increase conversion rate
How to increase customer unit price
How to optimize site operations
Although due to differences in team, budget, and resources, most small and medium-sized sellers may not be able to learn it for a while, we can refer to their site optimization first, and then slowly learn their traffic operation methods.
Here are the 8 best Shopify stores in the United States, you can study more. Hundreds of thousands and Shopify stores have been collected in Sellercenter. Now we choose Top Shopify Store to study and analyze.
Top 8 Shopify Store in United States:
1. Fashio Nnova
Fashio Nnova is an emerging fashion women's clothing retail company. The company was established in 2006. Fashio Nnova relies on a huge number of celebrities, internet celebrities, and selfie enthusiasts for promotion, who endlessly post information about the brand on social media. It was established to satisfy a very online customer base and mass-produce cheap clothes that look expensive. Although Fashio Nnova was caught in the news for illegally hiring laborers at low prices, it is still the most successful Shopify Store in the United States.
Through SellerCenter, we can see that Fashio Nnova's main product category is Women's Crop Top, the most successful product is tights, and Fashio Nnova attaches great importance to social media marketing. It has 1,816,346 followers on Facebook and Instagram. With more followers, there are 4,833,260 followers so far.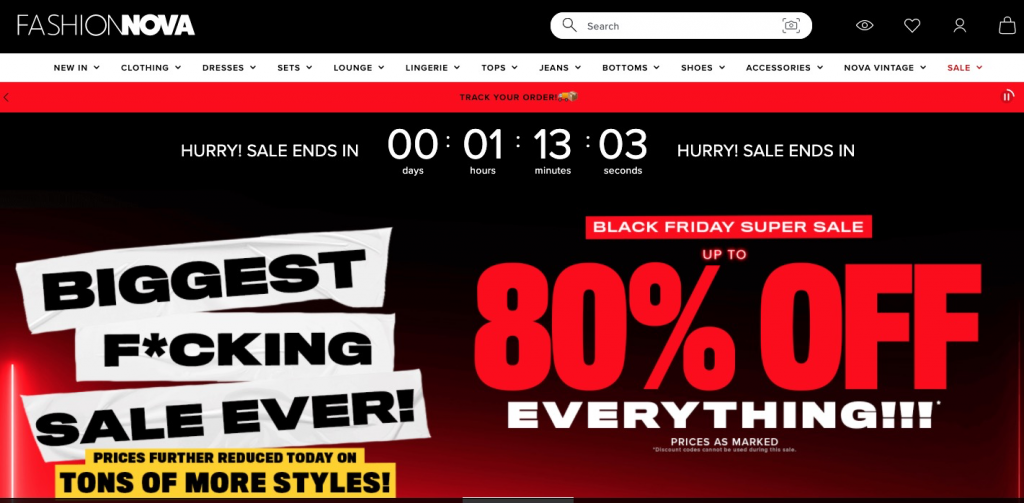 2. ColourPop
In the United States, ColourPop is the second-ranked Shopify website. The title of this website is "Beauty That Doesn't Break The Bank", and its main product categories are: "Eye & Makeup Brush Kit Set, Makeup…".
ColourPop was founded in 2014, they mainly produce products for the eyes, lips, and face. Their brands are known for their affordable prices (many products range from $5 to $20) and collaborations based on current trends in social media. Their main makeup style is gentle.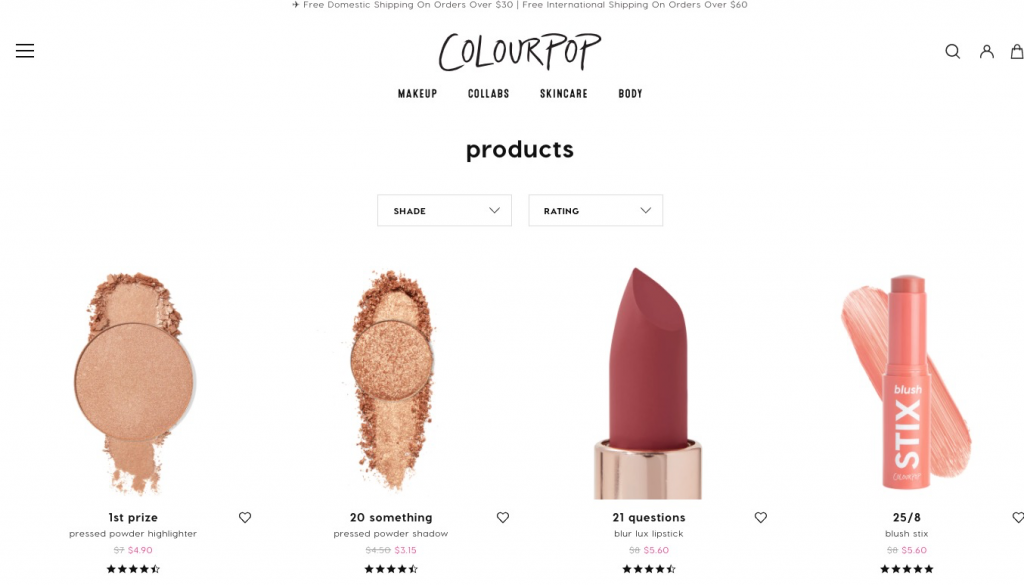 3. Pura Vida Bracelets
Pura Vida Bracelets was established in the United States in 2010, and its main sales products are bracelets and handmade products. The biggest advantage of this brand is to provide customers with the most unique bracelets as possible. These bracelets have been liked and worn by many celebrities. After the brand became famous, Pura Vida Bracelets has sold more than 2 million bracelets.
There are currently 597 products sold on the Pura Vida Bracelets website. It created a Shopify store on July 13, 2010. After that, it started advertising and promoting products on Facebook and other social media. Up to now, 1,998,130 people have followed Facebook. The brand, on Instagram, has 2,099,124 following Pura Vida Bracelets.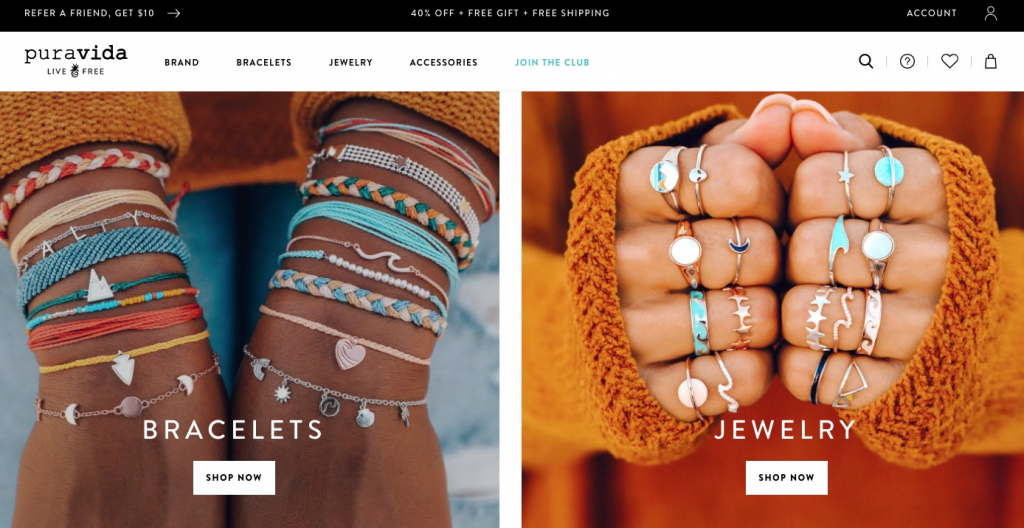 4. Kith
Kith was founded in November 2011 and is headquartered in New York, USA. Before it was a sports brand, Kith's style has gradually changed from a sneaker boutique to a streetwear brand. KITH has been producing original clothing since 2012, but it is also known for its cooperation with many footwear and street brands. Kith sells a total of 9,218 selected products, including many limited edition sneakers to choose from.
Kith's main sales categories are: Sneakers, Boots, Accessories, Pants… In addition, it also cooperates with many well-known sports brands to further increase its popularity.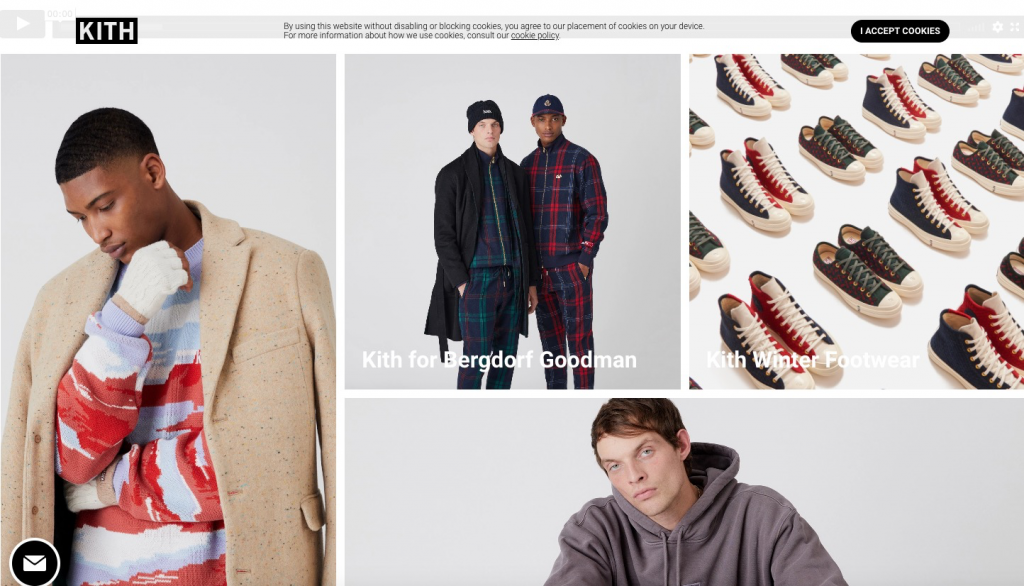 5. Alo Yoga
Alo Yoga was proposed in 2008, and the brand has won loyal fans with its true yoga clothing method (especially Alo Yoga leggings). Alo Yoga proposes that a clean environment helps better yoga practice. They believe that the transformation of exercise and yoga has a good therapeutic effect. Alo yoga clothes are designed to improve your practice level, and are modern and modern. Incredibly flattering and comfortable.
The main product type of Alo Yoga is women, Retail-Only Alo Item. The title of the Alo Yoga website is "Alo Yoga | Yoga leggings, clothes, and accessories for the studio to street". Alo Yoga's main promotion method is Facebook ads. Alo Yoga places more than 1,400 ads on Facebook every month, of which one-third of the ads are mainly placed in the United States, and the advertising creativity is mainly video.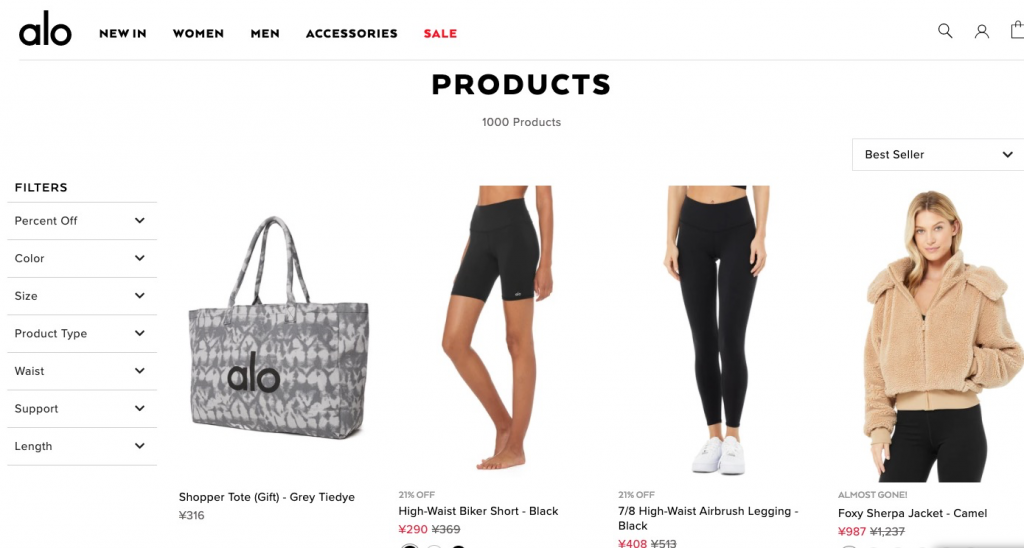 6. TKEES
TKEES was established on June 9th, 2011. Compared with the above 5 stores, TKEES is more like a small personal independent station. The products sold also belong to the subdivision of women's shoes. It was originally a sale of Flip Flops. Shopify store, and gradually increase the category.
The design of TKEES's website is simple, the types of products sold are niche types, the overall price is low, and the products sold are essential consumer goods. So individual sellers can learn layout and pricing strategies from this website.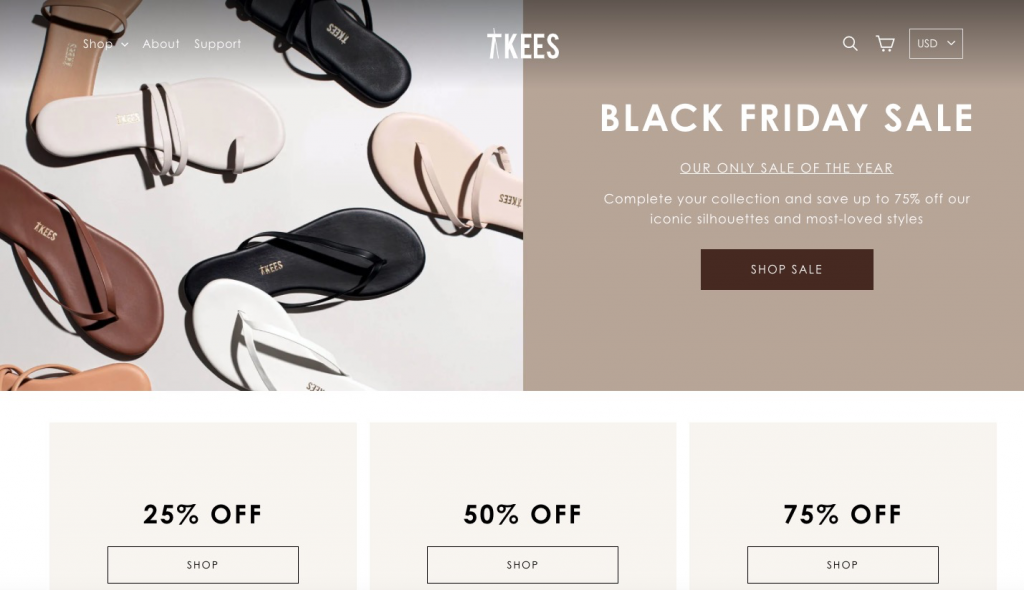 7. M N M L
M N M L was founded in 2016. This is a band from Los Angeles that provides high-quality denim that is very popular. M N M L provides high-quality products at reasonable prices by minimizing production costs. Today, it has become a brand loved not only by overseas celebrities, but also by fashionistas all over the world.
MNML benefited from the perfect cooperation with the factory to ensure product fashion without losing product quality. And MNML, which creates high-quality clothing, is a rare cost-effective price. Open its official website and found that the pricing is close to the people, for example, the jeans series have a uniform price of 64 US dollars.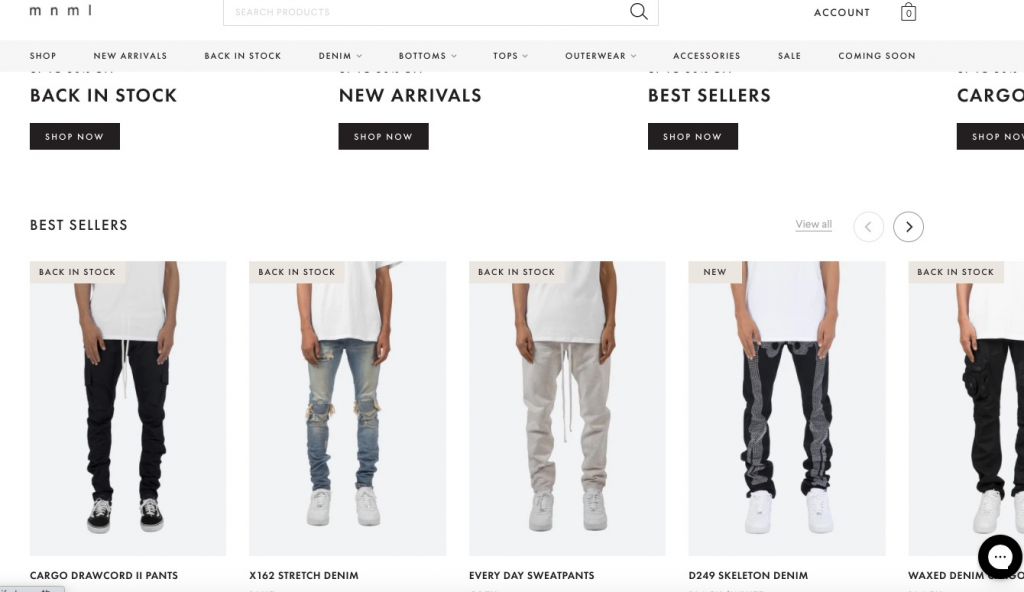 8. unitude
unitude is a Shopify store established on December 8, 2015. The main business category of unitude is "Bag, Accessory", and its title is "nitude | Women Bags-Handbags…",
unitude has 72,823 followers on Instagram and 15,105 followers on Facebook. Unitude's main method of draining traffic is Facebook ads. In November 2020, a total of 48 ads were launched.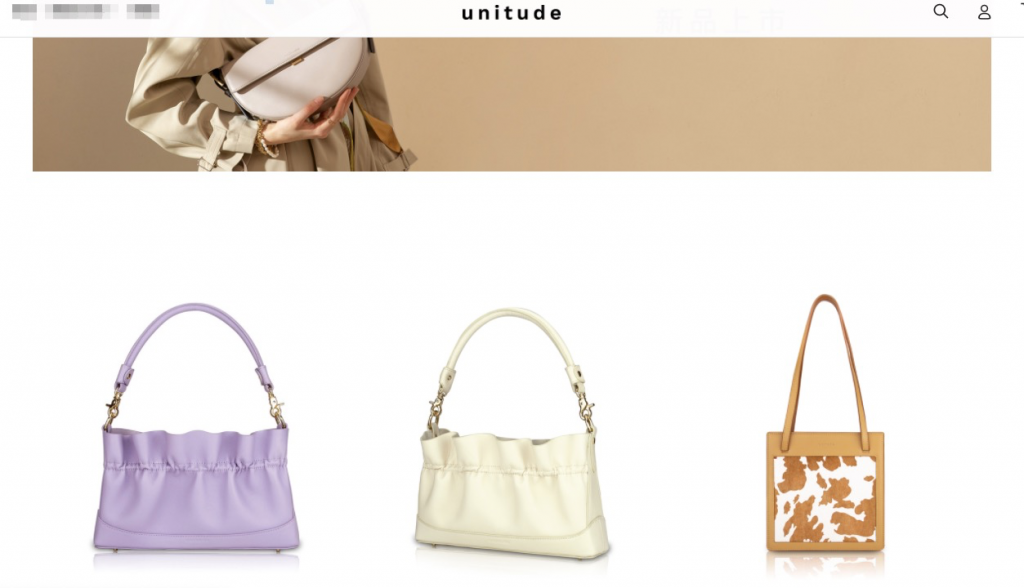 Judging from the 8 most successful Shopify Stores in the United States, we can easily find that in order to be successful in Shopify, we must first define our products, categories, and main audiences. In addition, the marketing of social media must not be relaxed. Every Shopify Store puts a lot of energy into social media marketing. In addition, low prices seem to be the trend of Shopify. Through the above shops, we can find that the prices of most websites are less than $80, so we must pay attention to our pricing strategy.