How to Make Money on Shopify in 2021?4 Excellent Ways
How to make money? This must be a question that everyone will consider. In the past few years, e-commerce sales have increased exponentially and are expected to continue to grow. In fact, e-commerce sales are expected to increase from USD 2.3 trillion in 2017 to USD 4.5 trillion in 2021. From this point of view, entering the world of e-commerce is a good way to make money.
Shopify is one of the leading e-commerce platforms, with a market share of about 20% and total sales of more than $100 billion. Online sellers can use their platform to easily set up and manage their online store. According to Shopify's data, their merchants have more than 1 million stores in 175 countries/regions, but you don't have to run an e-commerce store to take part of the Shopify cake.
But How to Make Money on Shopify in 2021? I will introduce you to 4 methods.
1. What is Shopify?
To answer this question of the title correctly, you must first know that Shopify is not a single product, but a business platform.
Shopify enables merchants to sell products online through an intuitive interface that integrates with most existing website hosts, enabling a seamless transition from the company's homepage to its digital storefront.
And, Shopify is not only designed to make online transactions possible. The company also offers a point-of-sale (POS) system, which means you can manage all numbers and in-person payments in a unified system.
Shopify is a simple tool that makes it easier to sell goods, whether through the company's website or physical location. The platform provides a series of services for companies of all sizes, even those very small companies or individuals.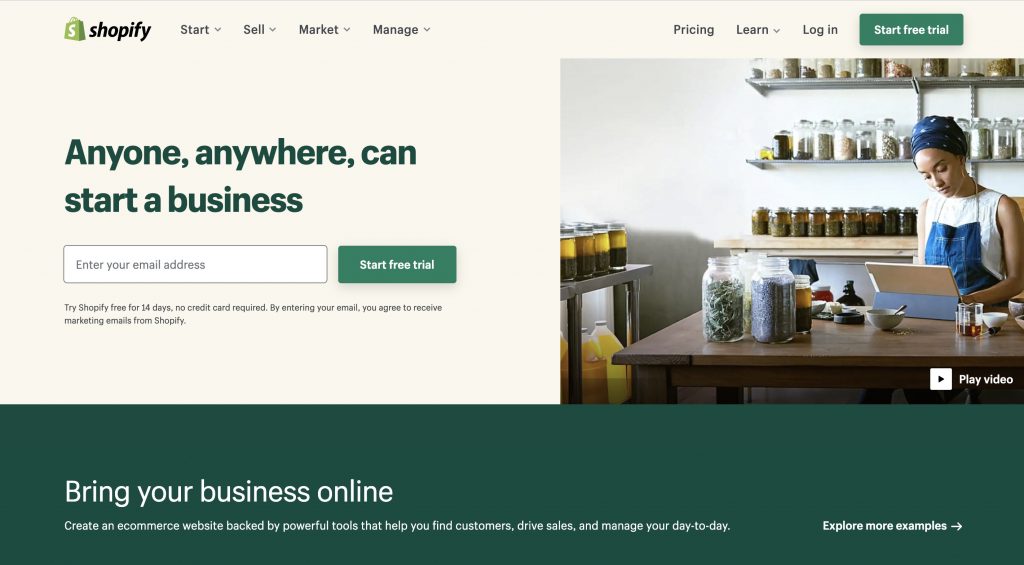 2. How much is the initial investment in Shopify?
Anyone who wants to make a fortune in Shopify will consider the issue of input and output. So, how much does it cost to invest in Shopify in the early stage? Like most e-commerce platforms, Shopify has a clear tiered pricing structure and provides different business services for customer groups with different needs. This tiered pricing structure is also a very common pricing method at present, which can help its customers pay for the services they need instead of paying for services that may not be used.
So how many pricing does Shopify have?
Basic Shopify: Best for new businesses or online businesses new to in-person selling
Shopify: Best for growing businesses with 1 retail store
Advanced Shopify: Best for growing businesses with 2+ retail stores
More choice: 14 days free trial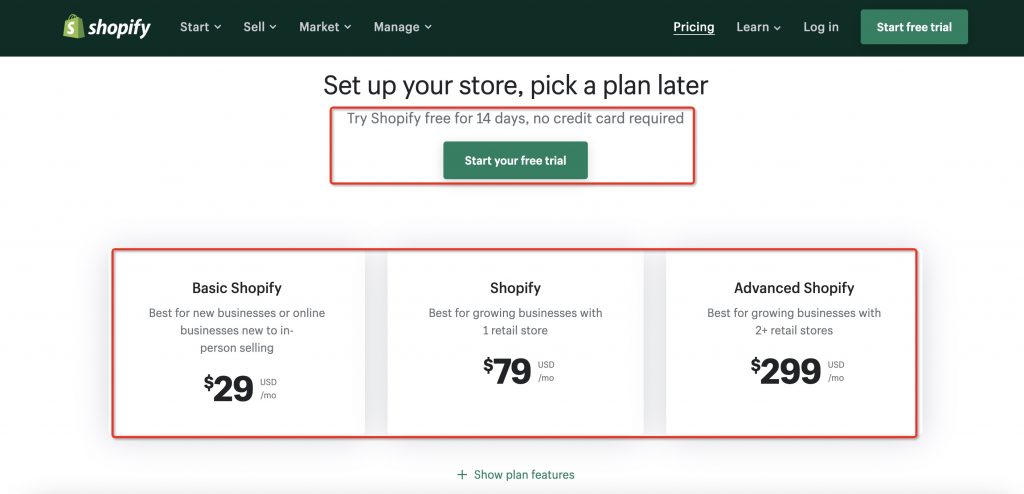 You can choose the package that suits the actual situation. If you are not sure about the effectiveness of Shopify, you can also participate in the 14-day free use plan, and finally decide whether to buy a paid package based on your actual experience.
3. How to use Shopify to make money? 4 methods
On the business platform of Shopify, there are many ways to make money, not just selling a variety of goods, such as services, clothing, art, and so on. But before setting up a Shopify store, you should also first understand that there are several different ways to profit from the platform. Here are 4 options for you to choose from.
3.1 Run your own e-commerce store
One of Shopify's best features is its ability to enable users to build online stores quickly and easily. You can sell almost anything, whether it's something you make yourself, something you want to resell, or a service you provide. Shopify has a simple platform that allows you to add items, organize items and make it easy for your customers to checkout. So, how to run your own e-commerce store, here are a few more tips:
1) Choose a niche
How to choose a niche? If you are not interested in the direction you are interested in, then the first way is to check what top Shopify stores are selling to get a little inspiration. SellerCenter has a page called " "Top 100 Shopify Stores" ", which lists the top 100 Shopify stores, click on the store name to enter the home page to view.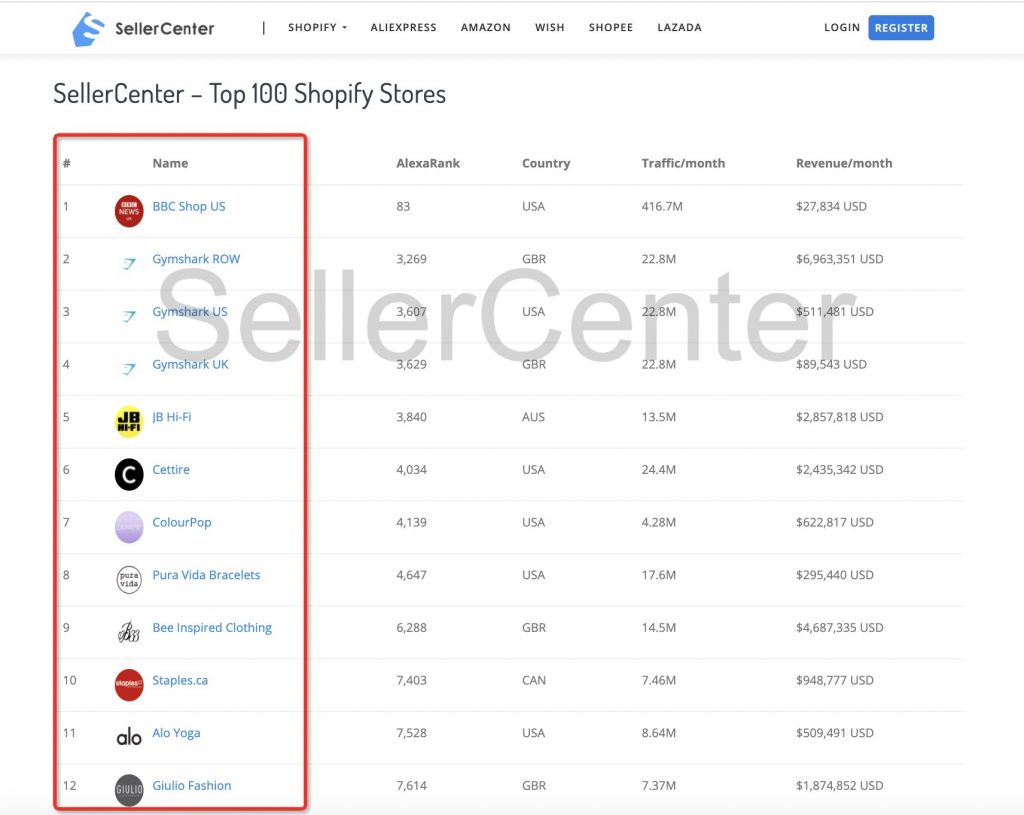 If you have a direction you are interested in, then follow the direction you like to proceed to the next step.
2) Selection
Choosing products is an important step for people who set up their own stores to sell on Shopify. How to choose products? Take FindNiche as an example:
a. Use the filter key to filter the products you want
For example, on the "SHOPIFY" page, you can see that there are many filtering conditions, and then you can freely combine to choose the niches you want.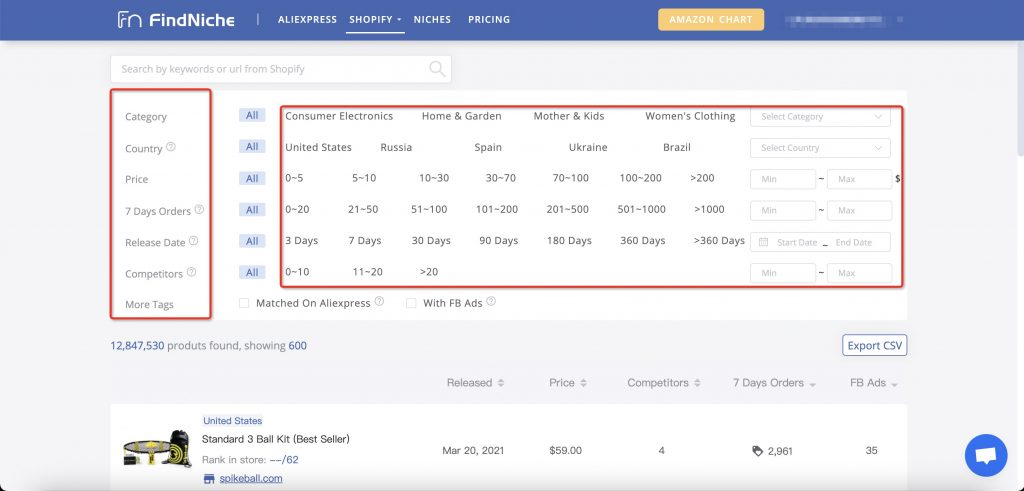 Of course, if you are a novice and feel that these filter conditions are complicated and don't know how to combine them, you can try these 5 tags we set for novices, refer to the selection and find inspiration. The labels are:
Low competition
Optimization potential
High ROIC
New Hot-selling
New explosion Niche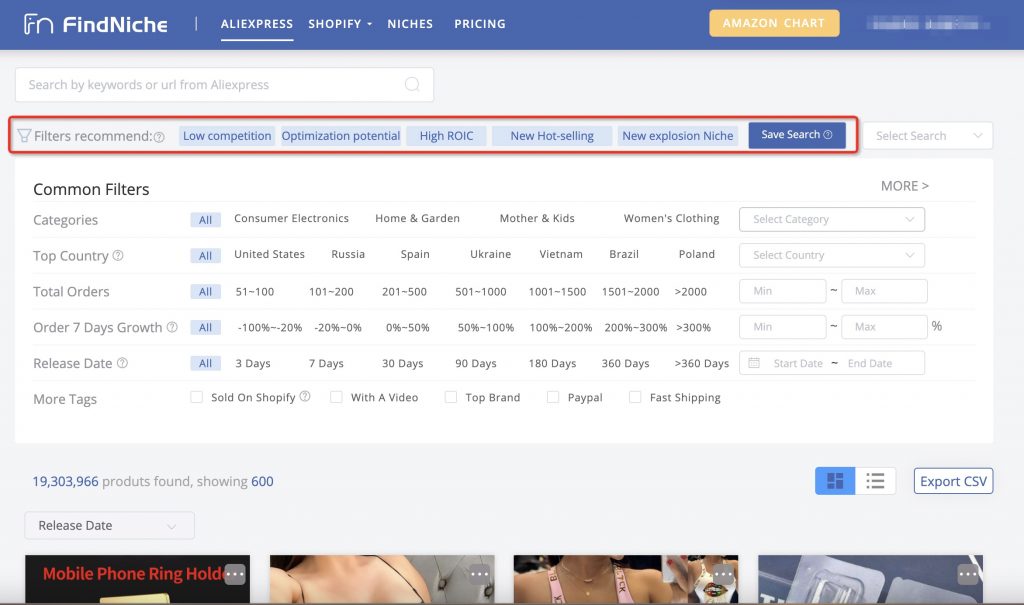 b. Use the "Niches" page to see the daily recommended selections
FindNiche will update some recommended Shopify products every day, as a reference for everyone's selection.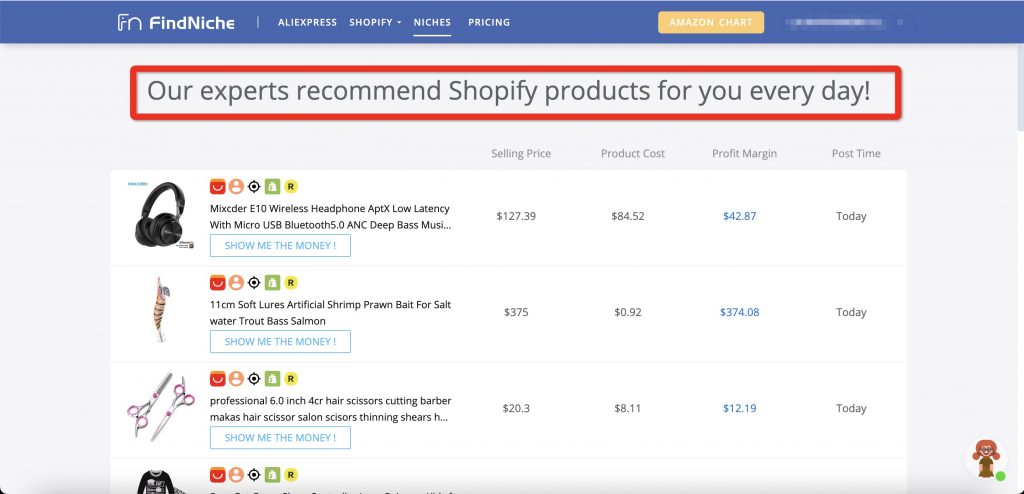 c. Monitor the selection of competitors
On the "Shopify Store" page, we can also monitor what competitors are selling. The best way to get inspiration for selection from competitors is the most sure thing. In addition, on this page, you can not only look at your competitors at the same level, but also check which products are new in the top-level stores in your area of ​​concern, so as to get inspiration.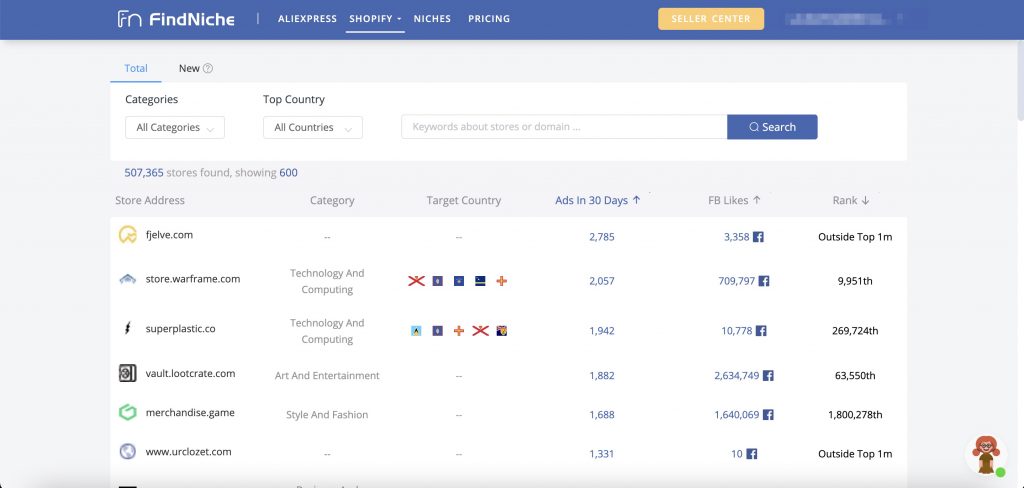 3) Competitive monitoring
SellerCenter has a Shopify Spy function, you can search for any competitor's store name, from here you can see the time the store was established, the social homepage, the best selling products, Facebook marketing, etc., all the information you care about is available. The most important thing is that this is a free tool, which is great for those who are new for Shopify.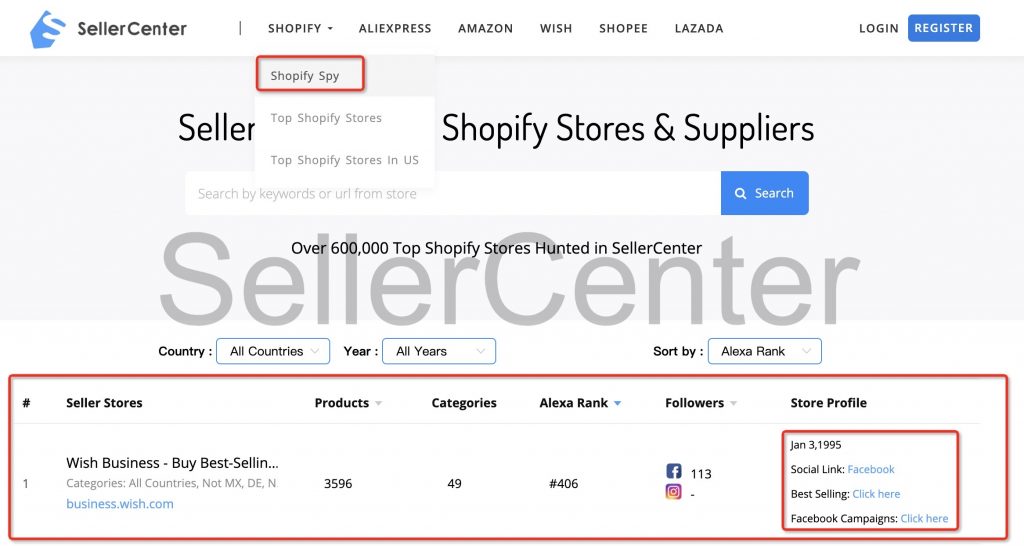 3.2 Use Shopify for direct sales
In recent years, direct selling has become an online sales phenomenon. These are some of the main benefits of direct shipping, including:
Minimal cash flow problem, because you only pay the supplier after the customer pays
No need to buy inventory, so the cost is extremely low, such as COG
Low setup cost
Since there are no transportation, logistics or warehousing costs, management costs are low
Reduce risk because the supplier has to deal with returns
The shipper is responsible for acquiring customers through marketing channels and effective customer channels, and providing customer support. But, what you should know is finding reliable suppliers is also important because you are the point of contact between the store and customers, and product quality, delivery reliability, and return policies will make or break your reputation. If you do not set the correct pricing strategy, your profit margins may be affected. Since direct sellers usually get the same economies of scale as wholesalers, profit margins may be small.
It is also easy to establish a direct sales business through Shopify. You can set up a product catalog, add prices, and filter orders to shipping partners through your Shopify account without having to keep only a single product in the process.
3.3 Become a shopify developer
If you have technical skills, then serving as a Shopify developer is an excellent way to make money in 2021. Although Shopify is a DIY e-commerce platform, there are many benefits of having the expertise of professional developers, including:
1) Application development
The Shopify App Store has thousands of apps that Shopify users can download and integrate with their store. According to Shopify data, 87% of online merchants use third-party apps in their stores. By 2019, Shopify users have installed more than 25.8 million apps. Since most of them are charged, if you develop high-quality applications for specific market needs, you can make money so that you can rank in the application store and earn income.
2) Custom storefront
Another way to make money on Shopify is to develop custom storefronts for e-commerce sellers. Even if it is not a complicated tool, some business owners do not have the will to deal with the actual setup of the store. In addition, if online retailers prefer to use a customized storefront instead of one of the Shopify templates, you can help them create beautiful customized storefronts.
3.4 Shopify affiliation
Shopify has a wide range of membership plans. As a member, you can use your unique affiliate link. Each merchant who joins Shopify through a paid plan can earn an average of $58 in commission. These are the criteria for becoming a Shopify member:
You own and operate a live website
You already have a relevant entrepreneur audience
You are a content creator and are publishing original content, such as blog posts, videos, online courses, etc.
You have extensive experience with Shopify or similar e-commerce platforms
If you want to make money on Shopify without running a real store and you meet these criteria, then becoming a Shopify member is a successful way.
4. Conclusion
Here are 4 ways to make money on Shopify, in fact, there are more to dig, here is just a brief reference. No matter what your status is, you can find opportunities to make money on Shopify. But the premise must be that the input and output must be considered clearly, and nothing will be done halfway.
I hope you can become the next Shopify success story.