10 Most Successful Shopify Dropshipping Stores to Learn From
E-commerce sales have developed rapidly in recent years, and many people want to enter the market to join the e-commerce industry. So, how do you find a niche that suits you? And how do we manage our own shopify store? According to SellerCenter's "Top 100 Shopify Stores" , we removed duplicate brands and listed the top 10 more successful Shopify Dropshipping stores. Hope you can get some inspiration from them.
BBC Shop US
Gymshark
JB Hi-Fi
Cettire
ColourPop
Pura Vida Bracelets
Bee Inspired Clothing
Staples.ca
Alo Yoga
Giulio Fashion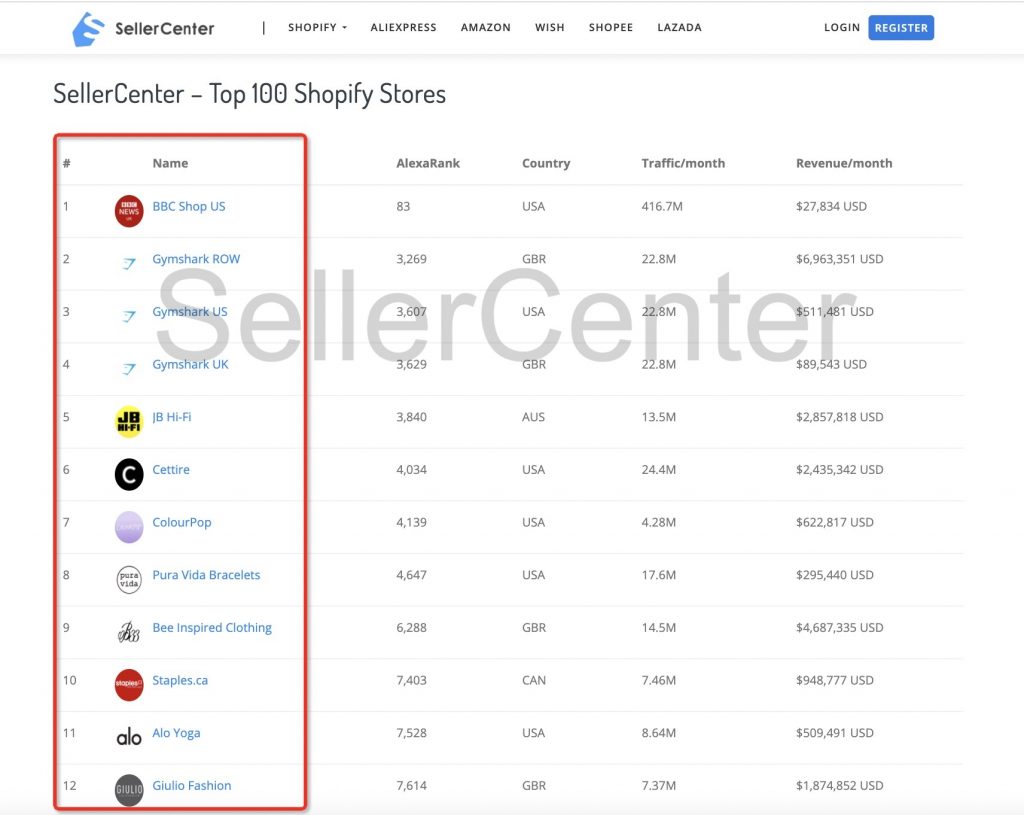 1. BBC Shop US
This is a shop officially established by the BBC. BBC Shop provides American viewers with the best British shows through their website and catalog. Their wide range of products include DVDs, books, audiobooks, music, home decorations and collectibles developed around top BBC and British brands.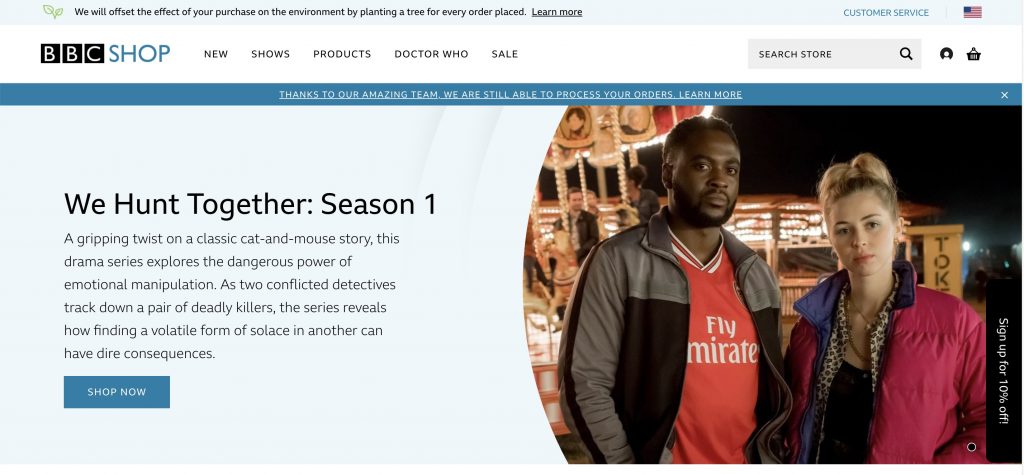 Because the BBC Shop is a wholly-owned subsidiary of the BBC, the profits of the BBC Shop support the BBC's mission to enrich people's lives by providing innovative programs and services for information, education and entertainment. At the same time, BBC Shop will also use 85% of the benefits to the Ecologi plan to save the global climate crisis.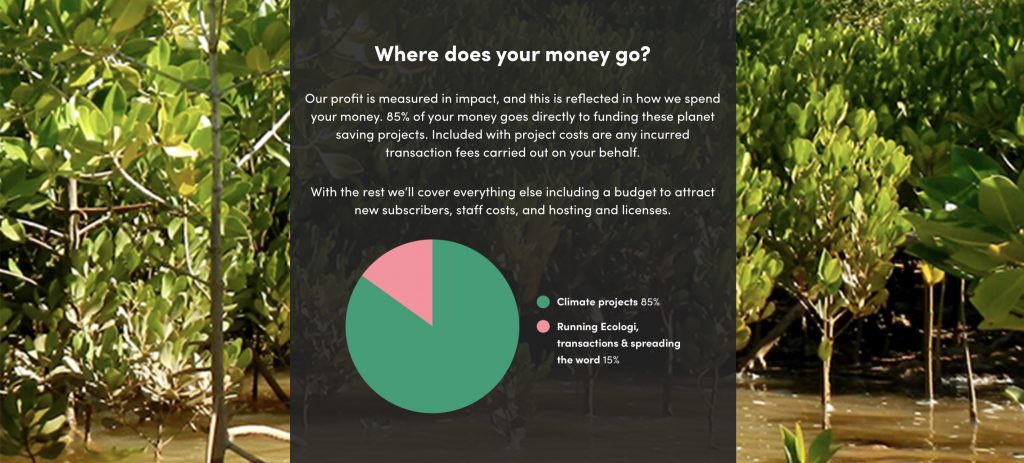 2. Gymshark
Gymshark is a fitness apparel and accessories brand, manufacturer and online retailer, headquartered in the UK, supported by millions of highly engaged social media followers and customers in 131 countries. Gymshark has grown from the garage screen printing business to one of the fastest growing and most well-known brands in the fitness field. This growth comes from investment in innovation, effective performance clothing, and expanding social influence.
Its concise layout, as well as the given corporate vision and brand SLOGAN, have created a great influence. This is also one of the ways of a good store, that is, to create a personal brand I.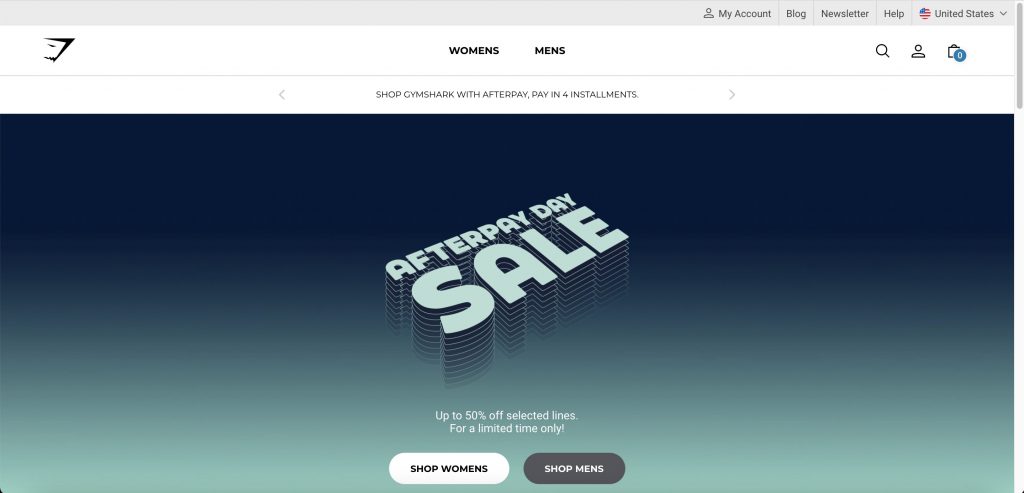 3. JB Hi-Fi

JB Hi-Fi was established in 1974 by Mr. John Barbuto (JB) and operated in a store in East Keilor, Victoria. In October 2003, JB Hi-Fi was listed on the Australian Stock Exchange. Now, JB upholds Barbuto's original philosophy and is one of Australia's fastest-growing and largest home entertainment retailers. JB store provides the world's leading computers, tablets, TVs, cameras, hi-fi audio, speakers, car audio, home theater, portable audio and other brands.
JB Hi-Fi also provides the widest range of games, recorded music, DVD music + Blu-ray and DVD movies and TV shows, and the price is low, the product category is complete, basically what users need can be in one of their stores or online obtain. In addition to this, the most important reason why JB Hi-Fi scores are so high is that they have truly personalized services provided by experienced professionals.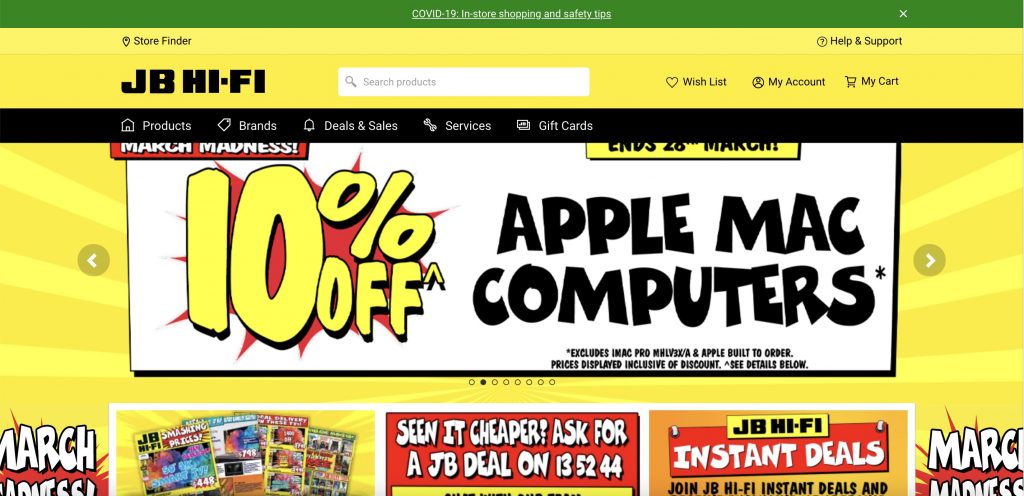 4. Cettire

Cettire's signature slogan is: your exclusive online destination for luxury and fashion. They sell various products from more than 180 designers, including various men's and women's clothing from world-renowned brands such as Prada, Gucci, Saint Laurent, Balenciaga and Valentino.
Cettire supports multiple payment methods and has a secure and easy-to-use payment system.
They also provide free express delivery, so you can receive your items within the time we promised, and return is simple, so our customers can rest assured to shop.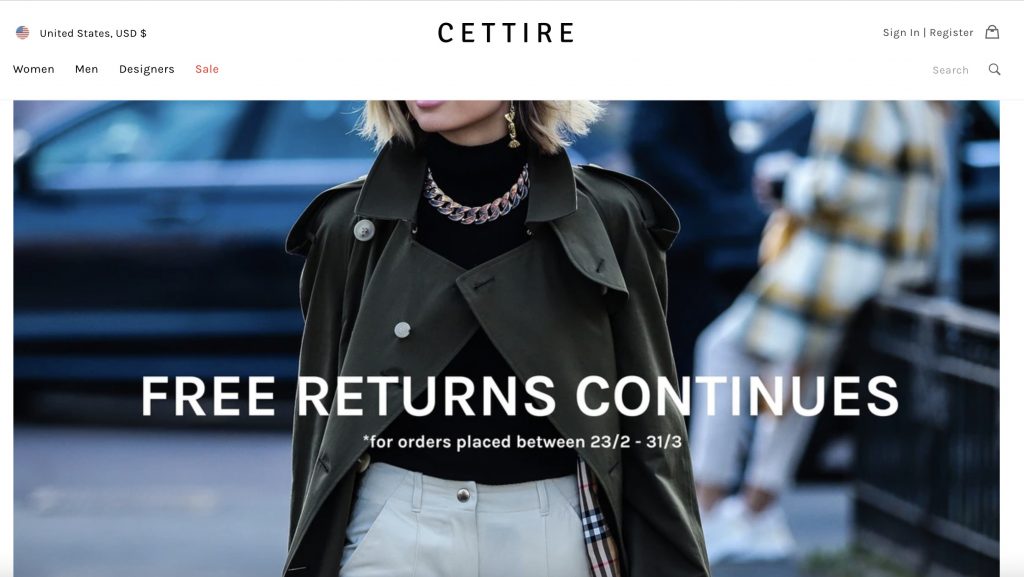 5. ColourPop
Colourpop was founded in 2014 by Seed Beauty in California. It has become a popular global makeup brand. Many beauty bloggers and fashion magazine editors love this makeup brand. The products it currently sells include: cosmetic products, skin care products, body care products, and joint names with Disney.
On the joint page with Disney, Colorpop directly used "25% OFF" as a promotional sign in order to play this sign. At the same time, for users who enter the store homepage for the first time, there is also the words "Want 10% off Your First" marked in the floating box above, which gives more discounts to users who purchase for the first time, which is very attractive and a great promotion method.
6. Pura Vida Bracelets
In the summer of 2010, when Griffin Thall and Paul Goodman of Southern California went to Costa Rica for a university graduation trip, they met two craftsmen named Jorge and Joaquin. Their colorful bracelets captured the simple beauty of Costa Rica. Sadly, Jorge and Joaquin struggled to survive on their own craftsman wages and lived in a three-bed single room with their family. Seeing this scene, Griffin Thall and Paul Goodman were eager to find some way to help them, so they asked the craftsman to make 400 bracelets to take home. This is the beginning of the Pura Vida Bracelets story.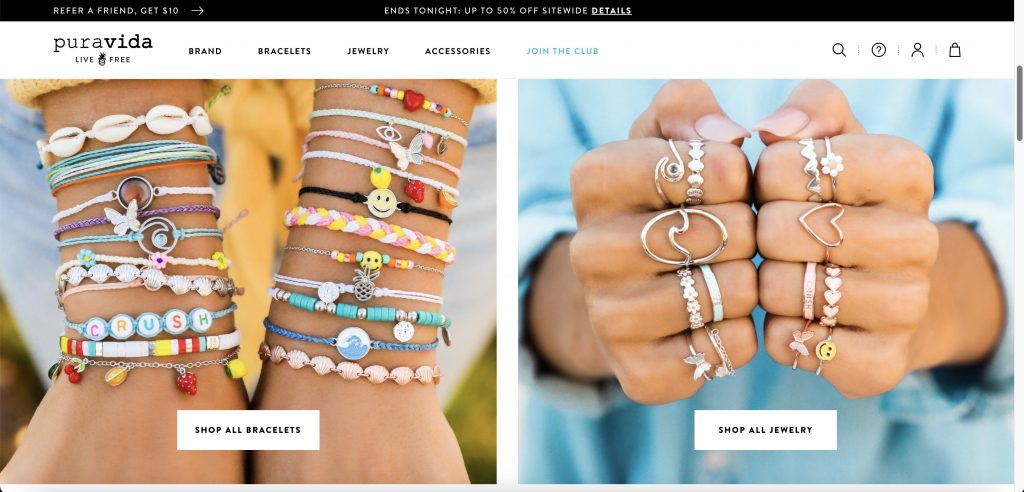 Pura Vida Bracelets are happy to give back to organizations that they believe are changing the world and have donated more than $3.3 million to more than 200 charity partners.
In Spanish, "pura vida" is translated as "pure life", not just a saying, but also a way of life. One of its meanings is to enjoy the little pleasures in life, slow down and live a fulfilling life. Many people have felt the influence of the spirit of Pura Vida on them . Griffin Thall and Paul Goodman's small store also sold only a few bracelets a week, but now it has developed into a global sport with millions of bracelets sold every year.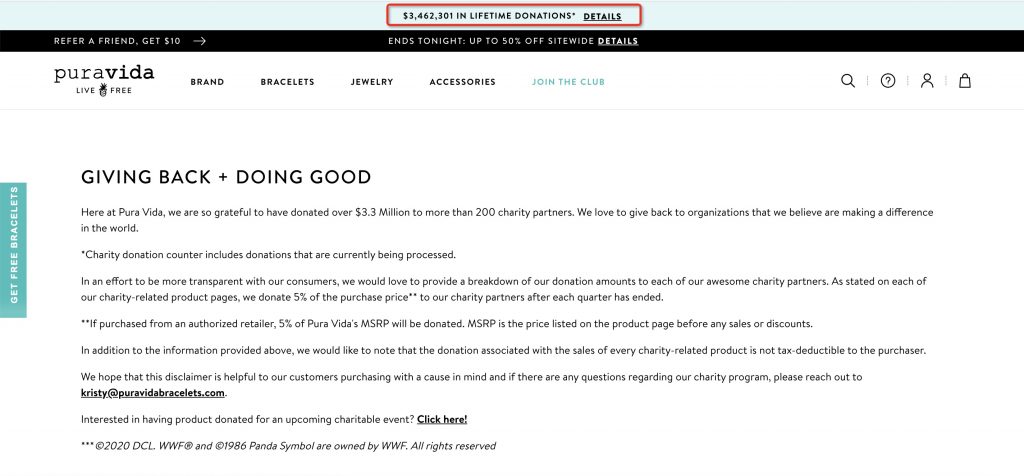 7. Bee Inspired Clothing
Bee Inspired Clothing is a shop selling street-style men's clothing, and its external publicity slogan is: "The Standard in Premium Streetwear, Designed for The Everyday."
In the description of the store's story, Bee Inspired Clothing said that it all started in 2013. Professional football players Steven Robb and Mark Corcoran hung up their sneakers and were inspired to begin a journey to change the pattern of streetwear.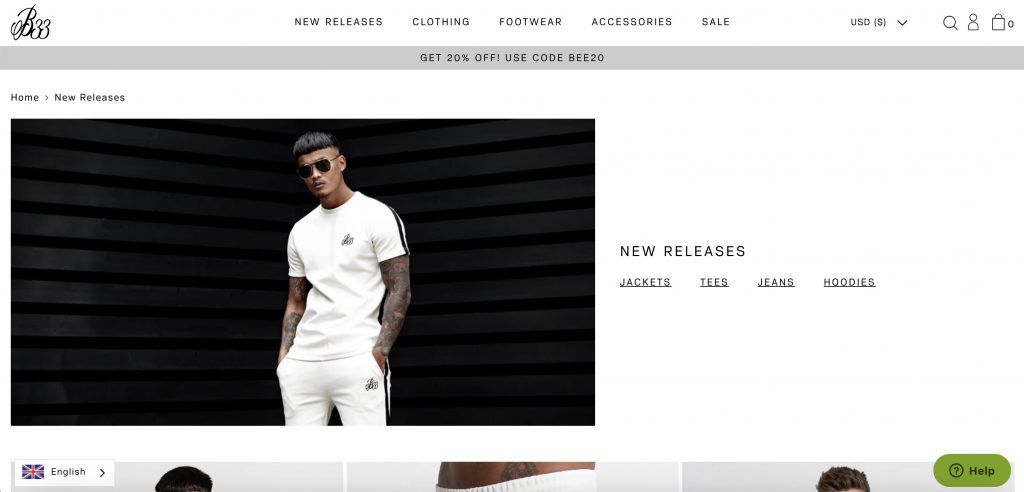 This store also gives users a certain discount for the first time purchase, but what is special is that this store also gives special discounts to students, and has set up a "Student Discount" on the store promotion column.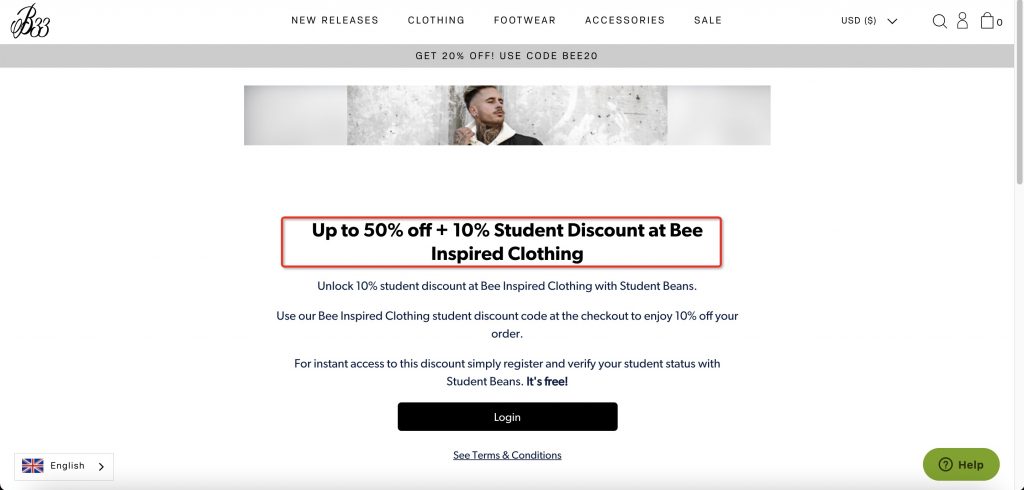 8. Staples.ca
Staples Canada is a work and learning company. It was established in 1991 and is a private company with its headquarter located in Richmond Hill, Ontario, with more than 300 stores in Canada. The company's mission is to support customers through Solutionshop's expertise, unique products and innovative services to meet the ever-changing needs of today's entrepreneurs, teachers, parents and students.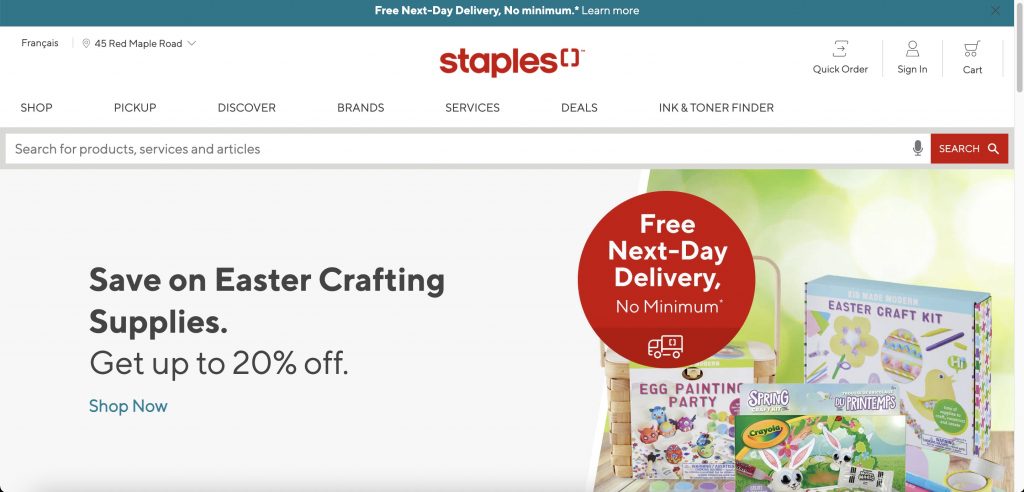 9. Alo Yoga

You can tell from the name of the shop that this is a shop related to yoga. Alo was established in Los Angeles in 2007 because the founder wanted to spread good products by bringing yoga to the world: to anyone who is experiencing the transformative power of yoga, to the best yogi wearing Alo in the world, because this is The only way to really improve their practice, for those celebrities and fashionistas wearing Alo, is because it is the perfect street brand, comfortable, modern, and by no means limited to cushions.
At present, Alo Yoga not only sells yoga-related clothing, accessories, auxiliary props, etc., they also invite many world-renowned yogis to teach yoga at Alo headquarters, which also makes its products and publicity more deeply rooted in the hearts of the people, making people really think They can create products that yoga people need and love.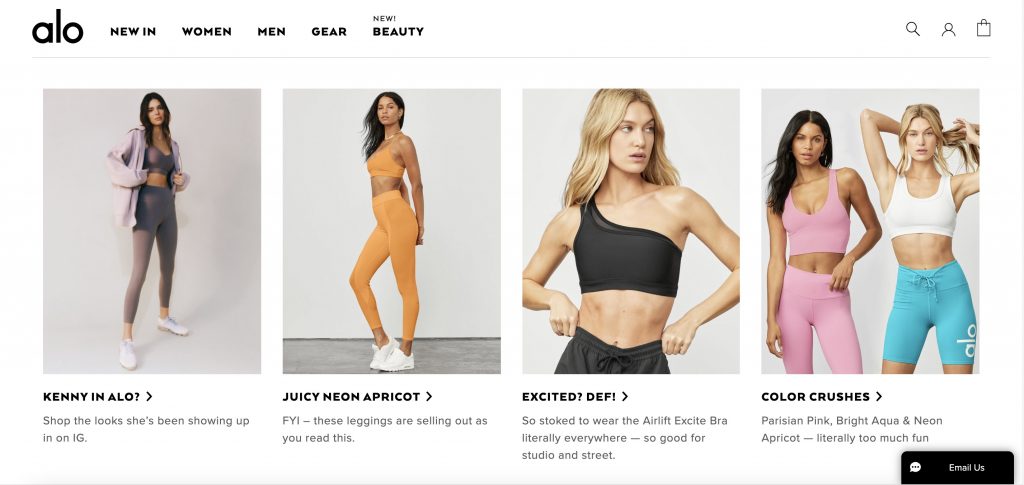 10. Giulio Fashion

GIULIO was founded in 1982 and is the home of Cambridge luxury fashion. This shop has been on King Street for more than 30 years and showcases the latest men's and women's fashion. The founder and owner Giulio Cinque collects trendy and in-demand luxury and modern brand collections season by season.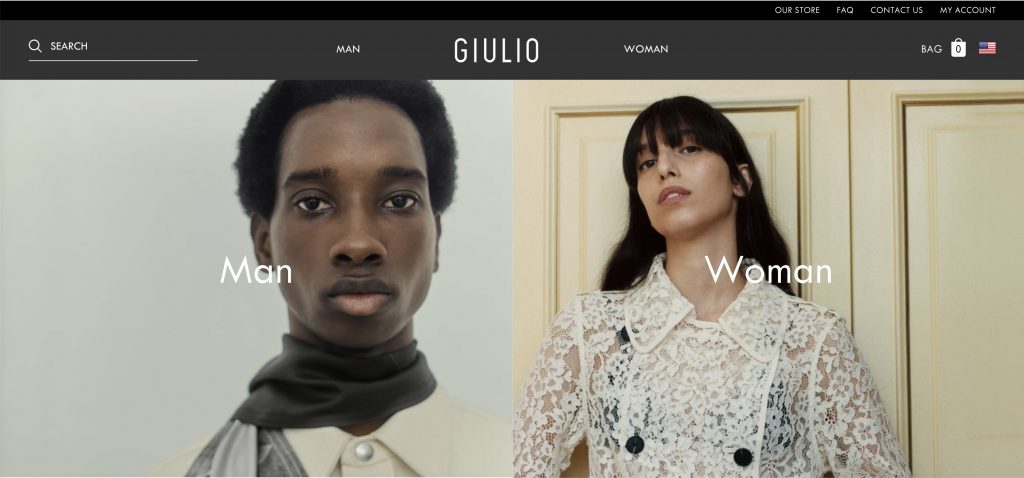 This is a light luxury brand that sells clothing, accessories, shoes, etc. The price is not very dominant, but its unique design, as well as the unique taste and smell of fashion, still make many people yearn for.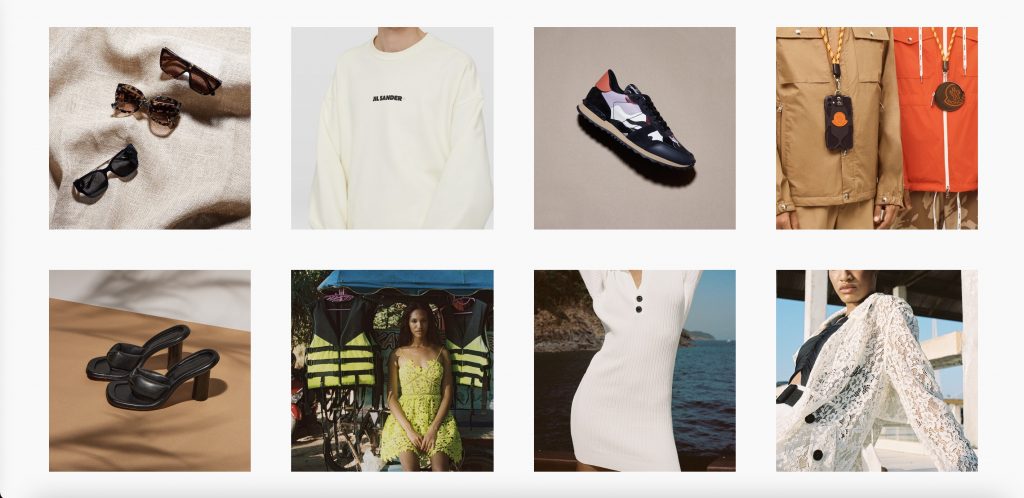 Conclusion
For many stores , this is a huge problem- they have no sense of identity with users . Buyers are tired of copy-and-paste shops, and always want to see attractive and unique things in the shop when buying. From the listed stores, we can conclude that successful shopify dropshipping stores have several common points, that is:
Identify the niche: Alo Yoga focuses on yoga products, and Pura Vida Bracelets focuses on colorful accessories.
Unique photography: such as Pura Vida Bracelets, Giulio Fashion
Beautiful logo: such as Bee Inspired Clothing
Personal website design: 10 shops listed today have this feature
Unique products: The products of these ten stores are very unique, or the products themselves have different meanings, or they can improve the efficiency of daily work or learning, or there are other things, in short, they are very unique.
Hope you can get some inspiration from today's article. See you in the next blog.