Top 6 Best Shopify Tools Spy on Your Competitors
Are you engaged in e-commerce sales? In other words, you are doing e-commerce based on Shopify? You know, today's e-commerce competition is fierce. Sometimes, even if you take action to increase sales, when you see a competitor's strategy that brings big sales, you still want to know how they did it. Especially when we don't know what's wrong with our strategy, observing competitors can often give us different answers.
Whether you need inspiration, information or insights, it's vital to understand how the most successful Shopify sellers stay ahead, such as:
What is their most successful product?
Where do they get buyers or traffic from?
What are their keywords?
Why is their website ranking higher than mine?
How do they price similar products?
So, how do you monitor Shopify competitors to get the information you need?
This article will guide you through 6 ways to monitor Shopify competitors, including paid and free tools.
Free: $0/month
Basic: $9/month
Pro: $99/month
VIP Enterprise: $199~499/month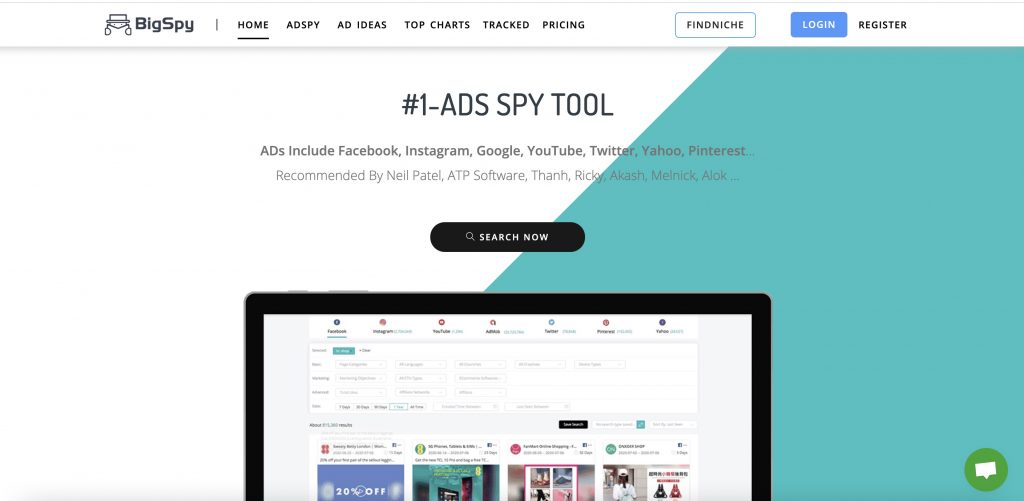 When we talk about monitoring competitors, we are not only talking about the miracle that this store has created, but we also need to analyze what factors have contributed to the success of these e-commerce stores. In the e-commerce business, social media has proven to be an important source of sales for e-commerce stores, and we cannot ignore the importance of social media to e-commerce.
BigSpy is a free advertising spy tool with a powerful database, covering all important social media platforms, such as Facebook, Instagram, YouTube, AdMob, Twitter, Pinterest, etc. It can monitor marketing strategies from Facebook to other social media. Therefore, this tool is very useful for e-commerce sellers. You can search for competitors through BigSpy and understand their creative and advertising strategies, which is helpful for business development.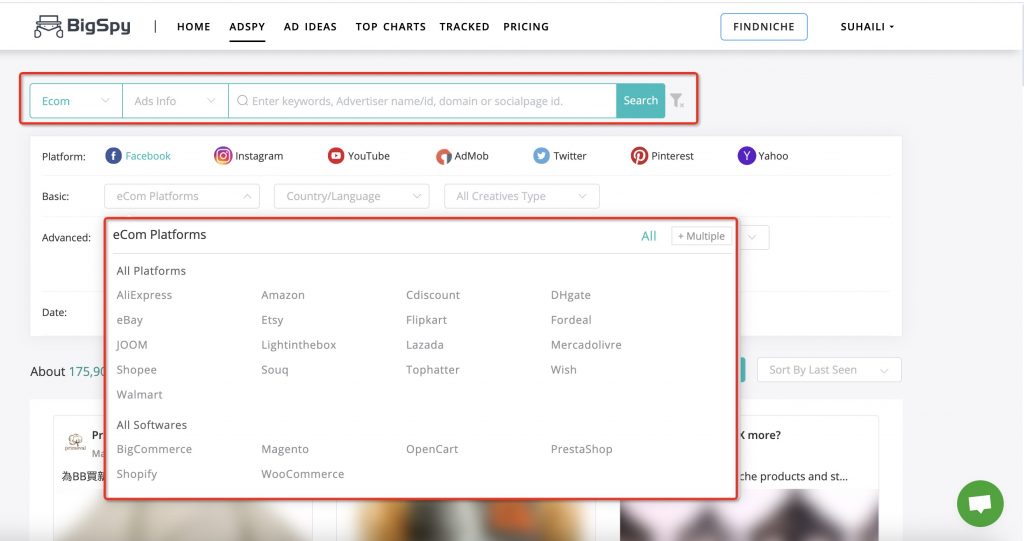 In addition, we can also sort in different ways, such as CTA type, page category, keywords, etc. When you encounter an advertisement of interest, you can also view other important details of each advertisement, including the following:
Creative
Advertising proposal
Advertising period
which performed
Designated area
2. Niche Scraper
Pricing: A price that is not clearly displayed.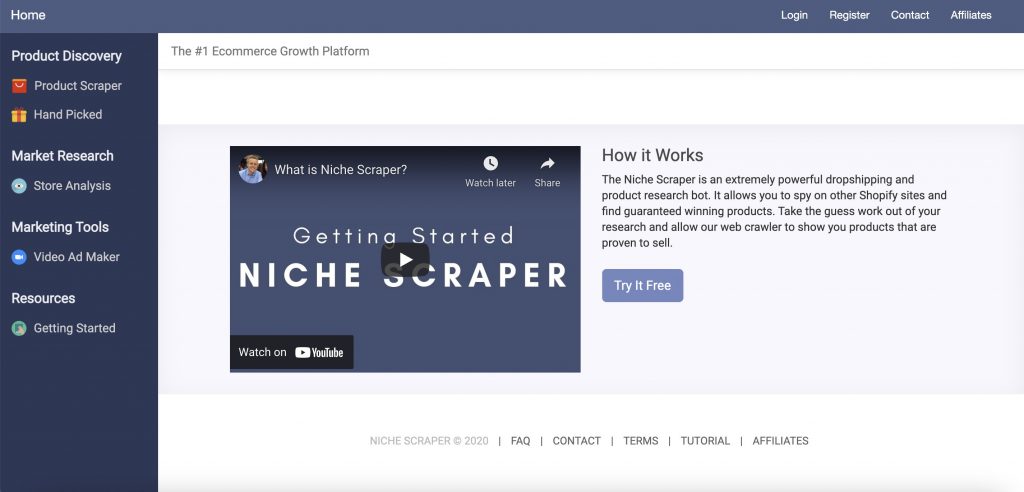 Choosing a niche market is the first step in starting a business, because no matter what you do, you need to first determine what the target audience you want to trade is like. In today's highly competitive world, having a "niche market" is very important.
Niche Scraper can help you find your niche and potential competitors in that niche. It not only supports Shopify stores, but also supports other e-commerce stores, including Amazon, eBay, WooCommerce, etc.
The two important functions of this tool are:
Help you find niche markets and competitors;
Help you with store analysis;
Elite Trail: $1 for 7 days
Pro: $29/month
Elite: $59/month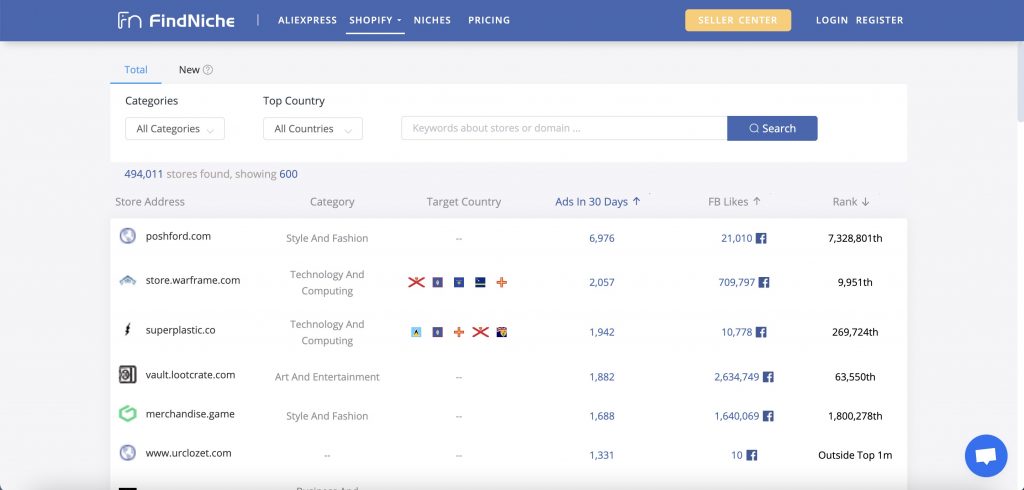 When it comes to monitoring competitors, you have to mention another equally powerful tool-FindNiche.
FindNiche is a niche product analysis tool for droppshiping. Summarize the product data of mainstream channels, analyze the product database from the perspective of express delivery, Shopify and FB advertising, and find your own niche products through the screening and sorting of the database. As mentioned above, finding niche products is the first step in e-commerce, and the powerful database and customizable filter keys provided by FindNiche are really helpful.
On the "SHOPIFY" page, you can search for competitors in your chosen niche to view his detailed information.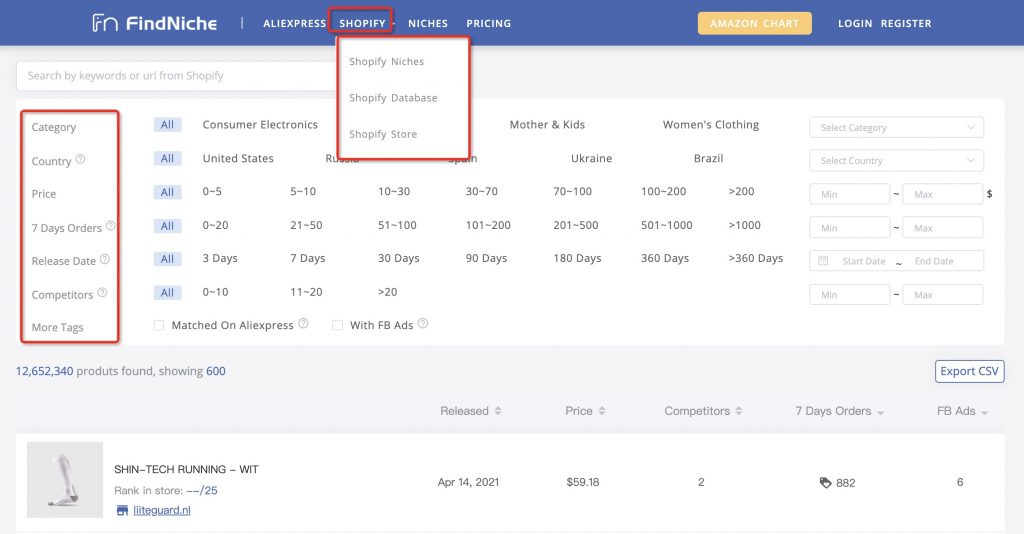 On the "ALIEXPRESS" page, you can quickly view the product information below, including: price, reviews, orders, the country with the highest sales volume, the sales history of the previous month, whether there is a video, whether it supports ePacket, whether it can be directly Ship, Shopify store or other online stores are selling these products and so on.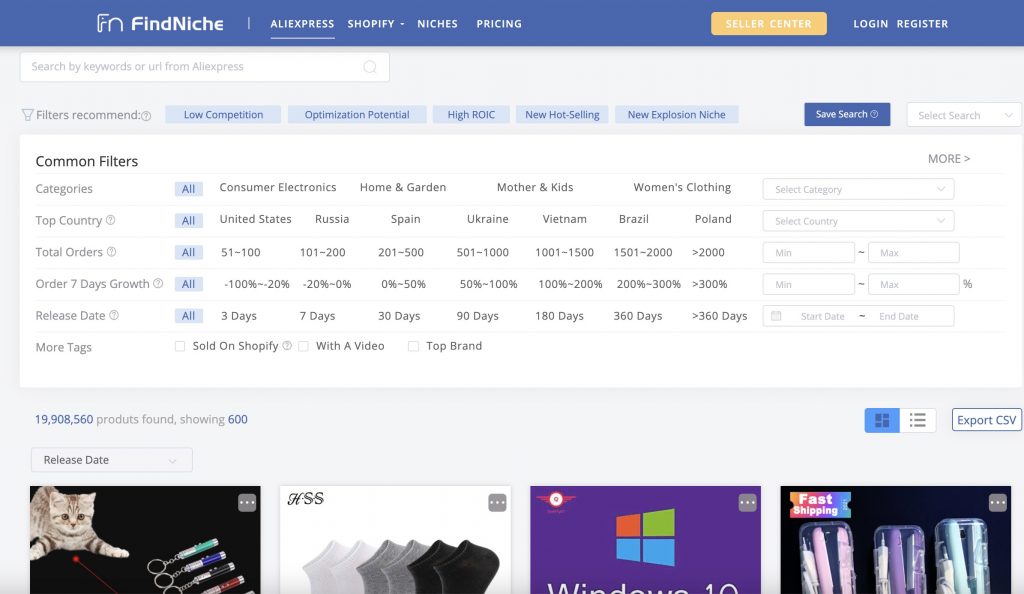 Finally, on the "NICHES" page, FindNiche recommends 4000+ different niche products for you every day. These products are recommended by their experts through a large number of data algorithms, and you can also get some inspiration here.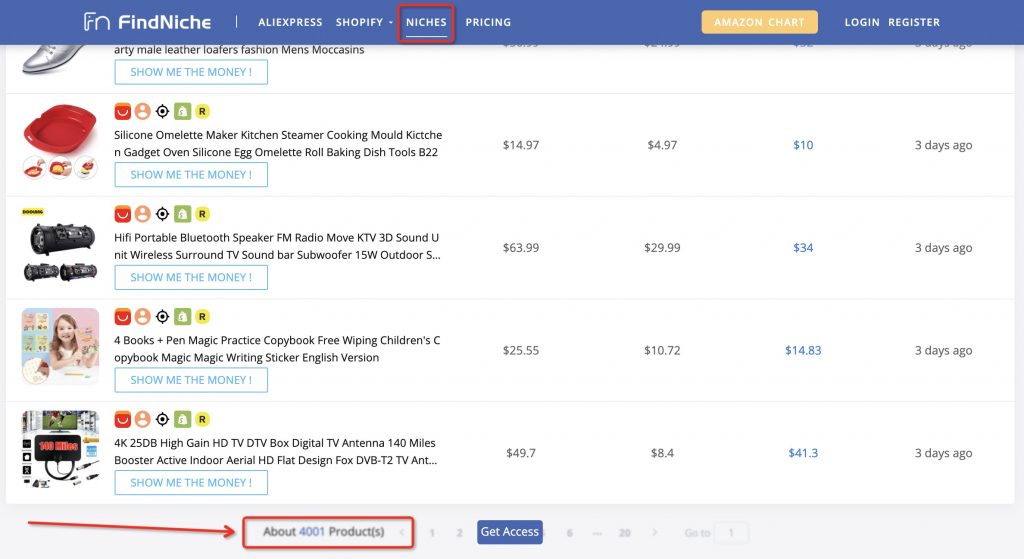 If you want to know more, you can read these blogs on the FindNiche homepage, which are very helpful: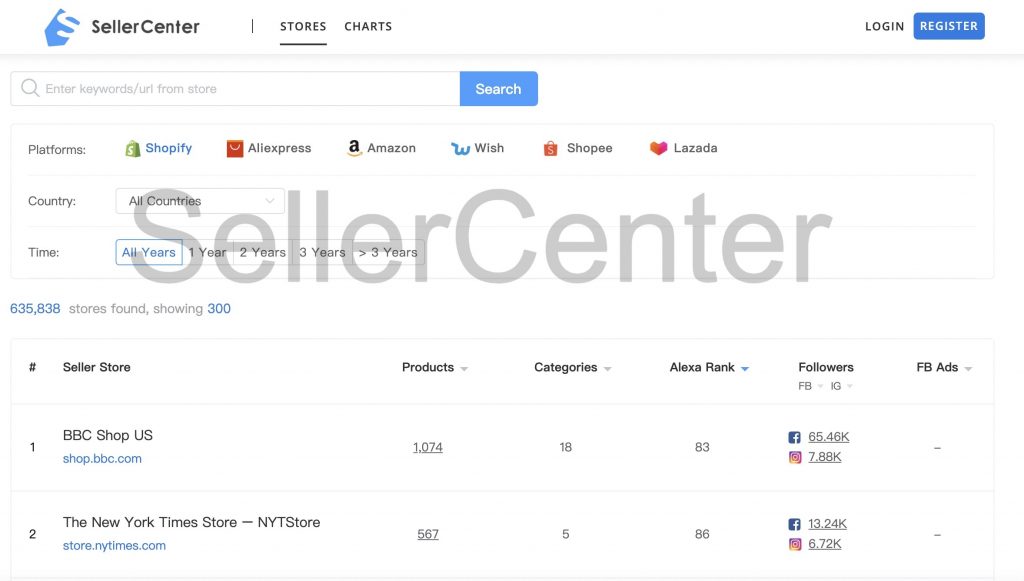 SellerCenter is a multi-platform integrated monitoring tool that displays Shopify, AliExpress, Amazon, Wish, Shopee, and Lazada. Here you can monitor the information of Shopify stores, including: Products, Categories, Alexa Rank, Followers, FB Ads. At the same time, you can filter the electronic stores in the country you want to see based on your Target Country.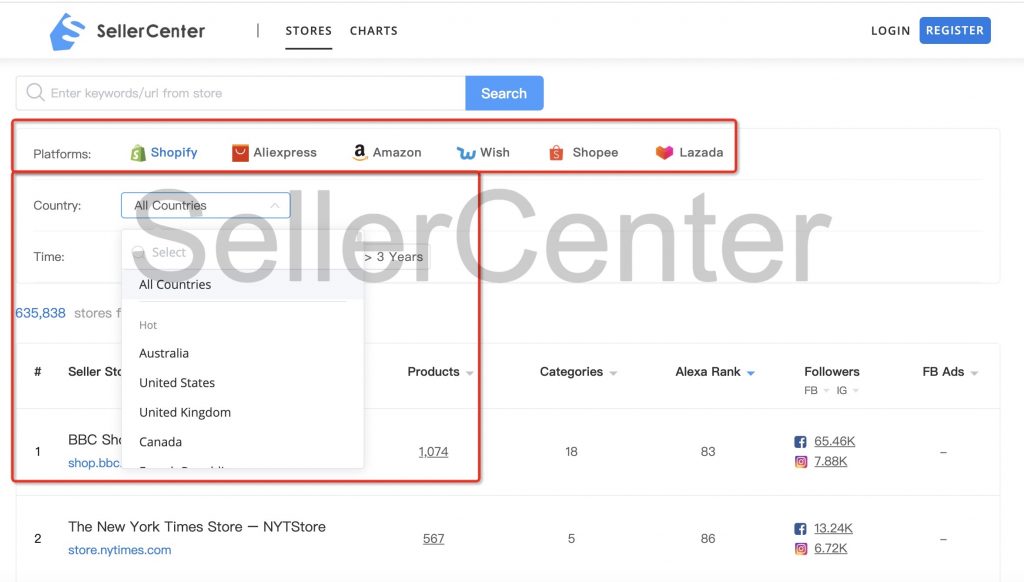 On the "CHARTS" page, you can also view the trends of top Shopify stores. There are three of them: Top Charts, Top Growing, and New Trending.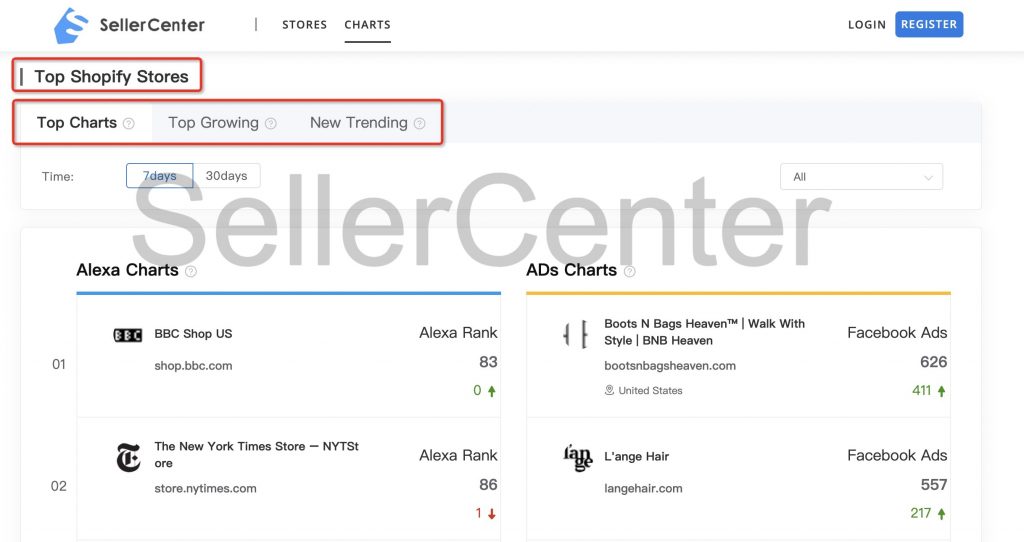 In addition, the core functions of this website are these two:
5. SimilarWeb
Pricing: Free version is provided, enterprise application price.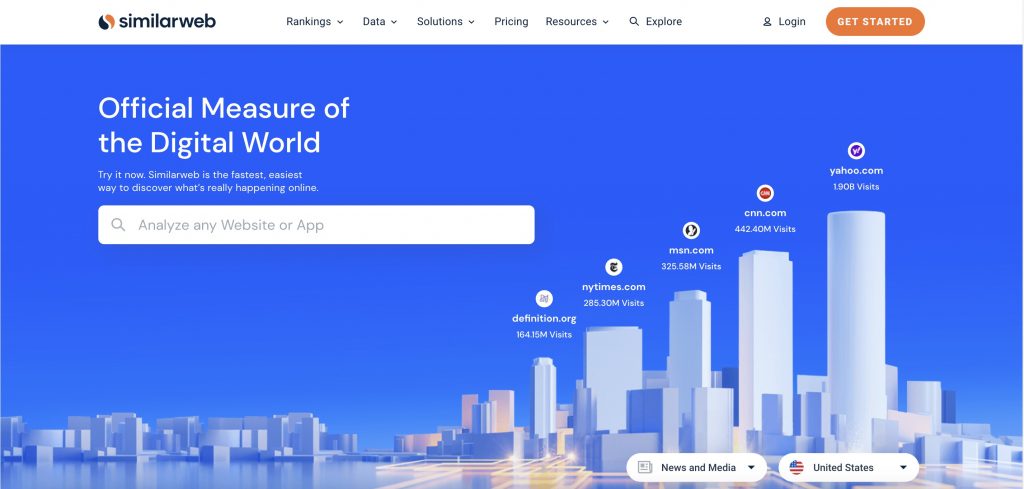 SimilarWeb calls itself an "innovative market intelligence solution" to "enable companies to make better decisions". You can use SimilarWeb to monitor Shopify competitors through in-depth market and competitor analysis, which can help you conduct market mapping and benchmark testing, channel acquisition, track customer behavior, and optimize channels.
Compare the performance of competitors' websites to discover new opportunities
Monitor market share and growth over time
Map the major players in any market
Understand changes in category visits, engagement and marketing channels
Discover conversions from competing stores to better understand channel leaks and performance
Identify the marketing channels that drive the highest conversion rate
Gain insights into the most viewed content among competitors
6. Ahrefs
$99-$999 per month (for agents)
The Lite and Standard plans currently offer a $7 trial version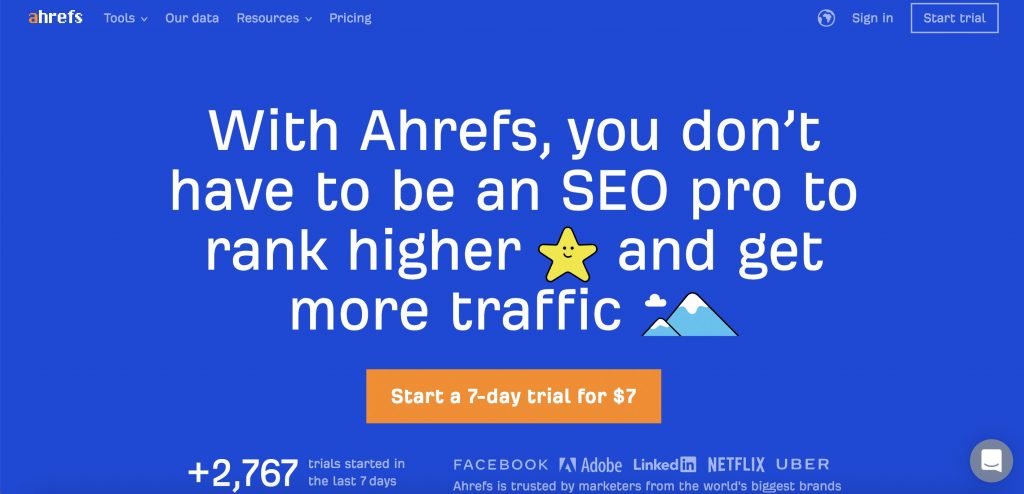 Ahrefs provides a set of SEO marketing tools for Shopify store owners, but the tool we are most interested in for monitoring Shopify competitors is the Site Explorer tool. This allows you to "in-depth understanding of the natural search traffic and backlink profile of any website or URL."
Most successful e-commerce sites will get a lot of natural search traffic to attract competitive keywords. Therefore, you need to do your best to overhaul them and compete for a portion of the traffic.
In fact, Ahrefs Site Explorer is a tool that combines three SEO competitor analysis tools into one:
Random traffic research: See which keywords your competitors rank for and which pages bring the most search engine traffic.
Backlink checker: Determine which websites link to competitors' websites and evaluate the quality of their backlink profiles.
Paid traffic (PPC) research: Find out if your competitors are doing paid search advertising, and where they aggregate paid traffic.
Together, these tools provide a 360-degree view of why your competitors outperform your rankings. It considers both on-page and off-page SEO and paid search.
Conclusion
Tools are just aids. In order to make money in e-Commerce business, in addition to having a unique vision for product selection, it also requires effective marketing strategies. The method of monitoring competitors for inspiration is never wrong.
Hope this article to give you some inspiration and help, thanks for reading.